Since its founding in 1971, Yunika has developed and grown side by side with the local communities in which it operates. Our corporate philosophy is to help local communities develop through our management of amusement complexes. To fulfill this mission, we offer facilities that attract people to the community, coordinating every aspect of management including the combination of goods and services the building as a whole will offer.
■Effectively Utilizing Real Estate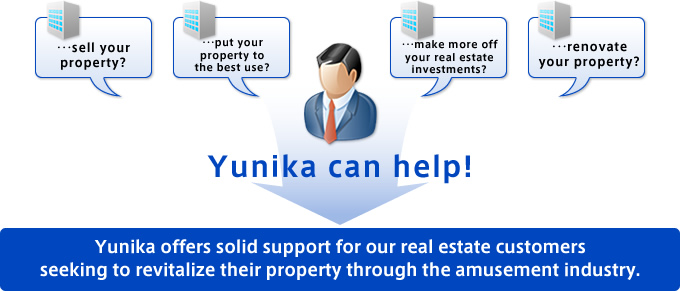 Yunika reinvigorates real estate and buildings in prime station-front locations by developing amusement businesses that attract substantial customer traffic. Those who are wondering how best to utilize their real estate are welcome to consult with us.

■Store Openings
Provided below are examples of Yunika Corporation's successful real estate activities, including ordinary acquisitions, leasing to office building tenants, corporate partnerships, leasing from public corporations, and acquisitions of lots from public corporations.
GOLD ON Shinagawa
GOLD ON Otsuka
GOLD ON Nagayama
■Projects
Yunika boasts a long history of successful development. We plan, propose, and implement our projects to take full advantage of our extensive expertise and reliable network of affiliates.
■Business Divisions