■Chitoseya Cafe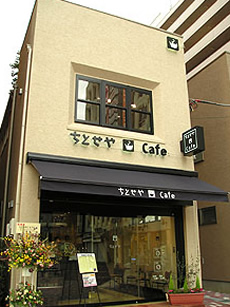 A special express train stop with heavy passenger traffic, Chofu Station is one of the main stations on the Keio Line. The gateway to a thriving entertainment area, Chofu Station sits among large commercial buildings in a central urban district. Since its doors opened on October 3, 2005 on the rotary at the station's north exit, Chitoseya Cafe has attracted a steady stream of customers on their way to and from the station and nearby businesses with its casual inviting atmosphere.
Our cafe venture began as part of a project to develop businesses that Yunika would own and operate as tenants for the Maghreb Building, a facility designed to serve the local community's needs. Spun off on March 1, 2006, Chitoseya Cafe is now an independent, Yunika-financed corporation headed by a young woman in her twenties, who as president brings a youthful curiosity and sensitivity to customers' needs. Chitoseya Cafe Corporation looks forward to collaborating with Yunika Corporation to expand its cafe business.

Relaxing at Chofu Station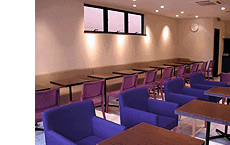 Featuring a prime location with counter seats on the second floor, Chitoseya Cafe offers customers an interior design of clean lines and an earthy color scheme from which to view the cityscape at the North Exit of Chofu Station.
In addition to hot and cold drinks, the cafe serves more than 30 delicious dishes. More than just somewhere to grab a cup of coffee, Chitoseya Cafe is part of the community, a place to relax or spend time waiting for the bus.
Logo
Outlet name and Address
URL
Tower A, 1-39 Fuda, Chofu-shi, Tokyo
TEL.+81-424-43-9288
【Business hours】7am - 10pm
【1F】non-smoking section; 22 seats
【2F】smoking section; 42 seats
Website