■Fitness & Spa Maghreb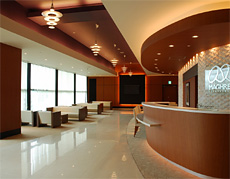 In October 2006, Yunika moved into the fitness business with its first venture, the Fitness & Spa Maghreb. The Maghreb Building, located in front of the Tama Center Station, opened its doors in March 1990 as a comprehensive leisure complex welcomed by the local community.
In designing these facilities, Yunika not only incorporated its expertise and experience gained over many years in developing outlets to meet the needs of local communities, but also integrated research into the latest fitness facilities and healthcare trends to create the ideal fitness club for a suburban community. Featuring spa facilities offering the ultimate in relaxation, this latest Maghreb Division venture helps provide local residents a lifestyle of convenience and luxury by developing the buildings and outlets that meet their needs.
Helping Customers Attain a Lifestyle that Promotes Beauty through a Healthy Body and Mind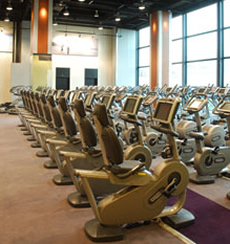 In 4,227㎡ of floor space spread over four stories, Fitness & Spa Maghreb is replete with an athletic gym, two studios, swimming pools (25m pool, attraction pool), hot bedrock baths, and sauna. The chic wood-grained interior features large windows for a comfortable well-lit spaciousness, and meticulous attention has been paid to every detail to create a comfortable, inviting atmosphere. These facilities combine the opportunity for proper exercise and the healing that comes with working up a sweat with relaxation delivered by such amenities as the aromatherapy featured in the studios.
In addition to offering plans tailored to customers' individual body types and goals, the club has also introduced the latest in IT systems to facilitate the management of training data and ensure that clients are able to enjoy the benefits of exercising to their full potential every day. By offering the facilities and services that ensure clients the ultimate comfort during the time they spend here, the club helps them create a lifestyle that nurtures both body and soul.
Logo
Outlet name and Address
URL
Maghreb Bldg. (lobby at 7F), Tama Center, 1-39-2 Ochiai, Tama-shi, Tokyo
TEL.+81-42-337-6777
【Business hours】
Weekdays 10am - 11pm
Sat. 10am - 9pm
Sun., National holidays 10am - 8pm
Website
Maghreb East Bldg. (lobby at 5F), Tama Center, 1-39-1 Ochiai, Tama-shi, Tokyo
TEL.+81-42-337-6651
【Business hours】
Weekdays 10am - 10pm
Sat. 10am - 8pm
Sun., National holidays 10am - 8pm
Closed on every Wednesday

Website
■Business Divisions