■Farmers' Market Chitoseya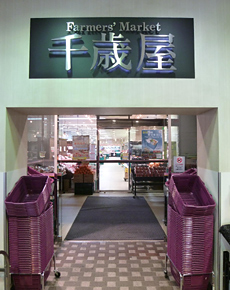 May 2015. With the sales floor extended to the 2nd and 3rd floors of Maghreb East, every day more than 10,000 customers come through the store. In the future we will continue to "support the dinner tables of our customers" by "seeking greater convenience for our customers".
Working daily to achieve our goal of becoming the most popular store in the area, we have succeeded in building up a loyal customer base, the majority of whom are neighborhood residents. In response to customer demand, we have expanded our market floor space and now serve more than 8,000 shoppers a day.
Our efforts to please customers go beyond mere size; we deliver the best in services, as well. To meet more of our customers' needs, Chitoseya has added a number of tenants to its Farmers' Market: Mine Drugstore; Kaldi Coffee Farm, an imported foods store; Koeisha Dry Cleaning; Keitai Denwa Kan, a cell phone and accessory store; and Be Life flower shop.
Our enthusiastic team of young employees, with an average age of 25, is another asset in providing fast, energetic service and in creating a lively atmosphere in our store. Future plans call for further expansion of Yunika's supermarket business to build greater sales opportunities in more stores of virtually any size. Wherever we open new stores, Yunika aims to be the finest supermarket in the area.
Business Policy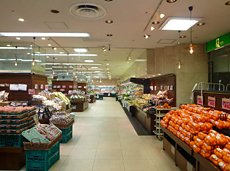 Our customers can depend on us to maintain a consistently clean, bright and active supermarket for a shopping experience that is always pleasant and convenient. We do this by greeting customers with a warm smile and serving them in a polite, friendly, efficient manner.
The entire Farmers' Market Chitoseya team pledges to live up to our policy and mission of delivering the absolute best to our customers: the best products, the best shopping experience, and the best service!
Logo
Outlet name and Address
URL
1F Tama Center Maghreb Bldg., 1-39-2 Ochiai, Tama-shi, Tokyo
1F Tama Center Maghreb East, 1-39-1 Ochiai, Tama-shi, Tokyo
TEL.+81-42-338-3393
【Business hours】
10:00am-10:00pm
Website
■Business Divisions